Hello readers! Just a quick post today, since I'm busy working with the next release of FreeFixer. Did you see a file on your system digitally signed by Kiril Semyakov? Then read on..
Windows will display Kiril Semyakov as the publisher when running the file. It is also possible to check a digital signature by looking at a file's properties. Here's a screenshot of the Kiril Semyakov certificate.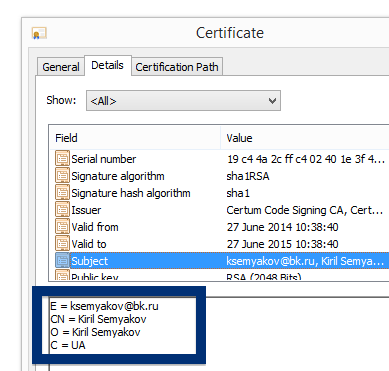 According to this, Kiril is located in Ukraine.
The reason I'm writing this blog post is that the Kiril Semyakov file is detected by many of the anti-malwares at VirusTotal. Avast classifies the file as Win32:FakeDownload-F [PUP], F-Secure reports Adware.Agent.PQH, Ikarus detects it as PUA.Win32.InstalleRex, McAfee-GW-Edition detects it as MultiPlug-FYT and Sophos reports MultiPlug.
Did you also find a Kiril Semyakov file? What kind of download was it? If you remember the download link, please post it in the comments below.
Thank you for reading.