Hello readers. Welcome to the blog. Today I wanted to talk about an adware/trojan called BrickStrengthener and thought I should give you some removal instructions. If the BrickStrengthener adware is running on your machine, you will see BrickStrengthener.exe running in the Task Manager and a new scheduled task called "BrickStrengthener" added on the computer. I'll show how to remove BrickStrengthener in this blog post with the FreeFixer removal tool.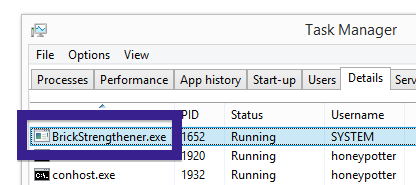 BrickStrengthener.exe is located in C:\ProgramData\Trusted Publisher\BrickStrengthener\.
BrickStrengthener is distributed by a tactic called bundling. Bundling means that a piece of software is included in other software's installers.
As always when I stumble upon some new bundled software I uploaded it to VirusTotal to check if the anti-virus software there detect anything suspicious. 30% of the scanners detected the file. The BrickStrengthener files are detected as TR/Crypt.ZPACK.73153 by Avira, Trojan.GenericKD.1867152 by F-Secure, Artemis!DEBA33DB1675 by McAfee and BehavesLike.Win32.FakeAlert.bc by McAfee-GW-Edition.
Since you probably want to remove BrickStrengthener, these are the items you should check for removal if you want to remove it with FreeFixer. A reboot of your machine may be required to complete the removal. Problem solved.
Hope this helped you remove the BrickStrengthener adware.
I stumbled upon BrickStrengthener while testing out some downloads that are known to bundled lots of unwanted software. Any idea how BrickStrengthener was installed on your system? Please share by posting a comment. Thank you very much!
Hope you found this useful. Thanks for reading.