Hi there! Was looking for some downloads to play around with and found one, digitally signed by Rodion Veresev.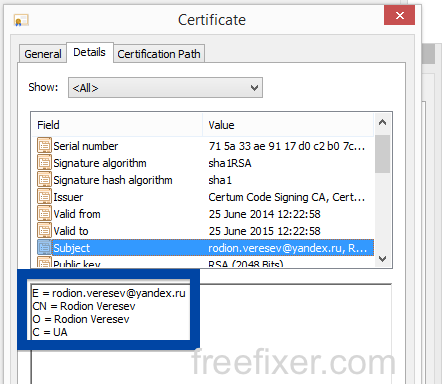 You can see who the signer is when double-clicking on an executable file. Rodion Veresev appears in the publisher field in the dialog that pops up. According to the cert, he is located in Ukraine. The certificate is issued by Certum Code Signing CA.
The reason for posting about Rodion Veresev is that the file is detected by many of the anti-virus programs. Avira reports Download Uc Browser V Handler Zip.exe as TR/Crypt.XPACK.Gen, DrWeb calls it Trojan.Crossrider1.25958, Sophos detects it as MultiPlug and Tencent reports Trojan.Win32.Qudamah.Gen.6.
Did you also find a Rodion Veresev file? What kind of download was it?
Hope this blog post helped you avoid some unwanted software on your machine.
Thank you for reading.