Welcome! Just wanted to give you the heads up on a file called Skype_Setup.exe that's digitally signed by Funnel Connector (Fried Cookie Ltd.).
What caught my attention was that the download was called Skype_Setup.exe. This might look like an official Skype download, but it is not. If it was an official download, it should have been digitally signed by Skype Software Sarl. Here's how the authentic Skype looks like when you double click on it. Notice that the "Verified publisher" says "Skype Software Sarl".

The problem with the Funnel Connector (Fried Cookie Ltd.) file is that it is detected by some of the anti-viruses. Here are some of the detection names: Application.Win32.FriedCookie.CIRK, Win32.Application.InstallCore.DI and InstallCore (fs).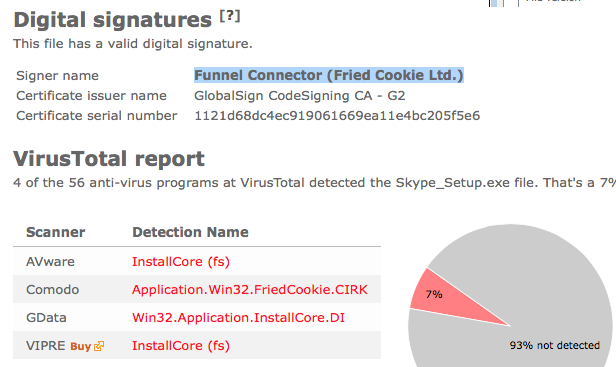 Did you also find an Funnel Connector (Fried Cookie Ltd.)? Do you remember the download link? Please post it in the comments below and I'll upload it to VirusTotal to see if that one is also detected.
Thanks for reading.