Hi there! Just a quick post on a file named finaltorrent-setup.exe digitally signed by TRUSTED INSTALL SOFTWARE.
Typically you'd see the TRUSTED INSTALL SOFTWARE publisher name appear when double-clicking on the finaltorrent-setup.exe file: It's possible to view additional information about the certificate by right-clicking on the file, choosing properties and then clicking on the Digital Signatures tab. According to the certificate we can see that TRUSTED INSTALL SOFTWARE is located in San Fransisco in US and that the certificate is issued by VeriSign Class 3 Code Signing 2010 CA.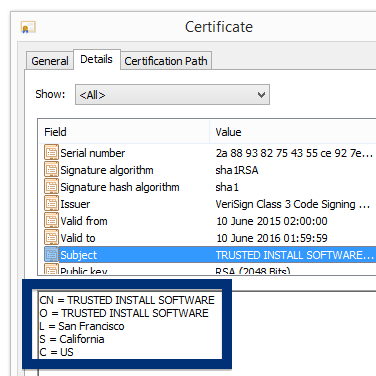 So, what's the problem here? Well, AVG detects this as Generic.AA1. All the other anti-virus programs over at VirusTotal did not detect the file. Could AVG's detection be a false positive? What do you think?
Did you also find a file signed by the same publisher? Does the scanners at VirusTotal detect it?
Thanks for reading.