Stumbled upon an adware called RocketTab this morning. I'll show how to remove RocketTab, but first, let's talk a little on how it is installed and what it does to your computer. RocketTab is distributed by bundling, that is, it is included in another software's installer. Here's how RocketTab was disclosed when I found it:
Once installed you'll notice the RocketTab file Client.exe running in the Windows Task Manager:
RocketTab inserts its ads while you browse the web. Here's the ads are labeled "Ads by RocketTab" and appear on the Google search results.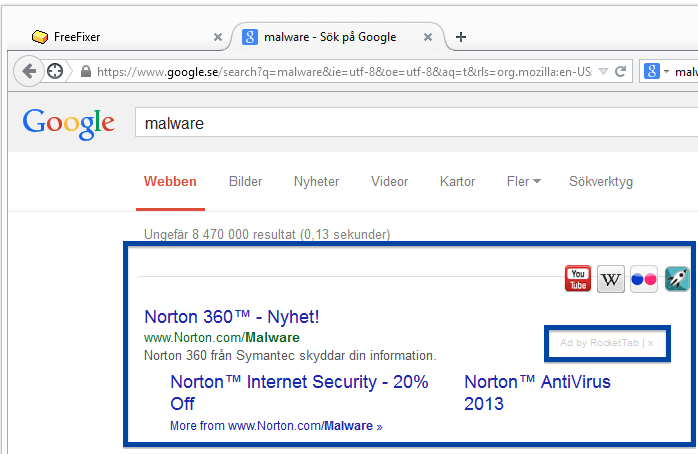 As always when I find some new bundled software, such as RocketTab, I upload the files to VirusTotal to see what the other anti-virus programs report. And the detection rate is very low: 4%. The detection name is Adware.iBryte.
Removing RocketTab is pretty easy with the FreeFixer removal tool. Just select the Client.exe process and scheduled task for removal, reboot and the problems is gone.
Hope that helped you figure out what RocketTab is and how to remove it.
How did you get RocketTab on your computer? Please share in the comments below.
Update 2014-09-18: Client.exe is now digitally signed by Inertware.