Hello! If you are a regular visitor here on the FreeFixer blog you know that I've been looking on the certificates used to sign files that bundled various types of potentially unwanted softwares. Today I found another certificate, used by a publisher called Green Tech Software LLC.
This is how it looks when double-clicking on the file and Green Tech Software LLC appears as the publisher. You can also see the Green Tech Software LLC certificate by looking under the Digital Signature tab on the file's properties. According to the certificate, Green Tech Software LLC is located in Beaverton, Oregon, USA.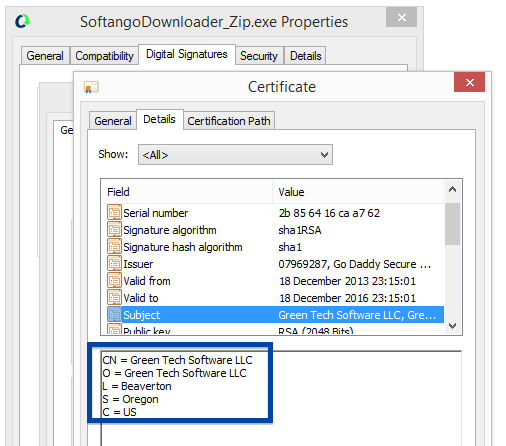 The download I found was the "Softango Downloader". It downloads some third party software, in my case a Zip program, and during the installation process, it will offer the user to install additional software.
The reason for posting about Green Tech Software LLC is that the file is detected by many of the anti-virus programs. F-Secure reports SoftangoDownloader_Zip.exe as Application.Bundler.InstallBrain, Malwarebytes detects it as PUP.Optional.Softango.A and VIPRE classifies it as InstallBrain (fs). The detection rate is 37%
I decided to run the Green Tech Software LLC signed file, and it offered four additional programs called Speed Test, PC Performer, UnknownFile and MyPC Backup in the installer.
Since you probably came here after finding a file that was signed by Green Tech Software LLC, please share what kind of download it was and if it was reported by the anti-malware software at VirusTotal.
Hope this blog post helped you avoid some potentially unwanted software on your machine.
Thank you for reading.